Biografía del artista

antonio menchen
From a young age, I estimate that with about 12 years, I have dedicated many of my leisure time to painting. First in oil and much more recently in pastel and wax. But since my admission as a brother in the Macarena I have felt very motivated to paint my headlines: the Lord and the Esperanza Macarena. It has not been easy. About 4 years ago I gave a good number of brothers paintings and drawings until, a year ago, I felt the impulse to take my work to an exhibition where I would add other holders of sevillanas brotherhoods. So I set to work and in total more than 20 paintings have gone out to the wax. They have been many hours of work taking over again and again each of them (so you can not talk about line of evolution in these works).

In my relationship with the brotherhood of the captive of Utrera I have executed in oil pastel its titular and made 3 posters for this brotherhood.

I have exhibited twice in Seville (Hermandades del Trabajo and Círculo Mercantil).
Envíos

I send the boxes running the expense to my position by parcel companies
Devoluciones

If a work is returned I refund the amount of the purchase from which I will deduct the shipping cost and if it arrives in the state that was sent.
Obras en la misma galería
Se envía desde: España
Ofrecido por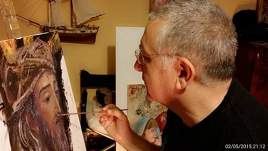 Sevillian cofrade art